In case you missed it… Senator Scott shares statement on vote against bad debt ceiling deal
---
WASHINGTON, D.C. – Today, Senator Rick Scott released a weekly update on his actions to address America's debt crisis and rising inflation and shared his statement slamming the passage of the debt ceiling legislation that will allow the federal government to hit $35 TRILLION in debt and does nothing to stop Joe Biden's raging inflation crisis. Reckless government spending causes inflation, and Senator Scott has been clear that a balanced budget is necessary to get the country back on the path to fiscal sanity, and give the families that continue to struggle some relief. Yesterday, Senator Scott wrote an op-ed for Fox News regarding his opposition to the legislation and released the following statement.
Senator Rick Scott said, "I voted no today because this legislation will only bury us deeper in debt and does nothing to stop the rampant inflation Biden and the Democrats have caused with their addiction to reckless government spending. There will never come a day when the permanent political class in either party in Washington will stand up in favor of curtailing runaway spending and debt. The politicians in Washington will never accept that they are wrong, so we have to force change. I have spent every day of my time in the Senate fighting to pass commonsense reforms that shake some sanity into this place and today made it even clearer that our work must continue. We won't compromise on debt. We won't say ok to 'good enough.' I am committed to stopping this madness and will keep working with my conservative colleagues in the Senate and House to actually get something done for the American people. We need to pass No Budget, No Pay to make sure Congress doesn't get paid unless a real budget is passed. We need to end reckless spending and we won't stop focusing on making sure Congress actually starts passing budgets."
Since being elected to the U.S. Senate, Senator Scott has repeatedly urged action to address America's debt crisis and the harmful effects of inflation. Click HERE for a comprehensive list of his statements and actions on this urgent issue.
See more from this week on Twitter: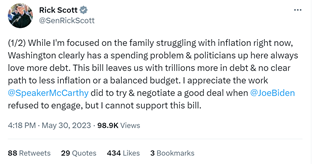 ###