WASHINGTON, D.C. – Today, Senator Rick Scott released a weekly update on his actions to address America's debt crisis and rising inflation following the Bureau of Labor Statistics (BLS) releasing Consumer Price Index (CPI) and Producer Price Index (PPI) numbers for February, which showed inflation continued to rise. Since Joe Biden became president, CPI has risen 15.0% and PPI has risen 20.6% over the past two years.
Earlier this week, following the latest CPI announcement by the BLS, Senator Scott released the following statement.
Senator Rick Scott said, "It sure seems like Joe Biden likes having the title of president more than doing his actual job. Families in Florida and all across America have suffered for two years under Biden's raging inflation crisis and he has done NOTHING to fix it. Just last week, Biden put forward a $6.8 TRILLION budget that's even more full of reckless taxes and spending than his last terrible proposal. Credit card debt is up and savings are down as families struggle to make ends meet. For our poorest families, like mine growing up, Biden's high prices make even the most basic necessities unaffordable. The president needs to WAKE UP and realize that the pain he is causing for hardworking Americans won't end until he ends his addiction to reckless government spending. We need to bring fiscal sanity back to Washington and I'm standing with my colleagues in the House who are showing that they give a damn about this country and will fight to fix it. I hope my fellow Republicans in the Senate will join us. The debt ceiling is our opportunity to get something done and we cannot squander it by caving to the reckless and dangerous wishes of Biden and the Democrats."
According to the CPI release, price increases over the year include:
Margarine: +39.8%
Flour: +19.8%
Utilities: +14.3%
Electricity: +12.9%
Food: +9.5%
Chicken: +8.8%
Shelter: +8.1%
Since being elected to the U.S. Senate, Senator Scott has repeatedly urged action to address America's debt crisis and the harmful effects of inflation. Click HERE for a comprehensive list of his statements and actions on this urgent issue.
See more from this week on Twitter: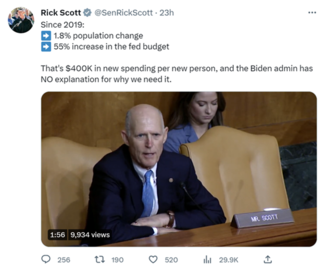 ,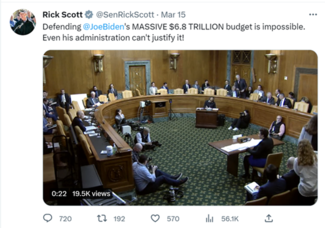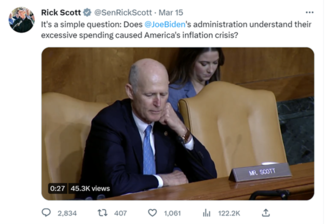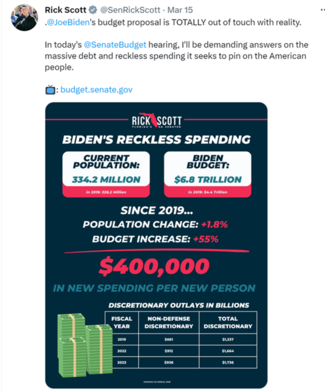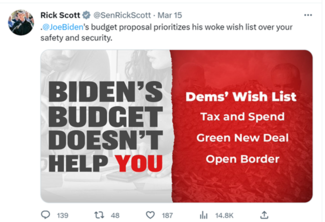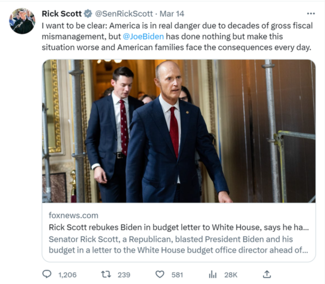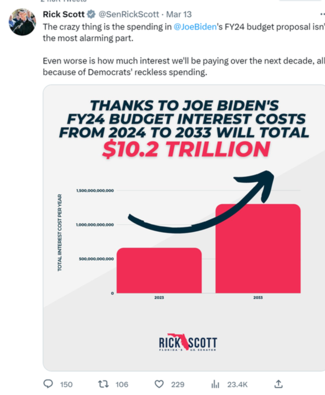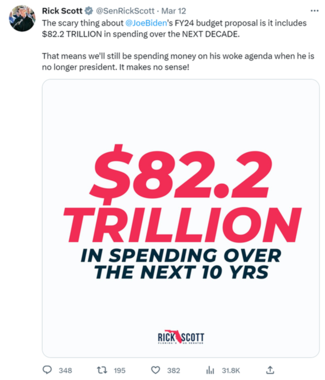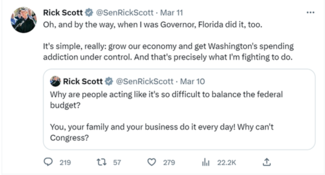 ###