WASHINGTON, D.C. – Today, as the Bureau of Economic Analysis' February Personal Consumer Expenditures (PCE) release showed prices paid by consumers for goods and services rose 5.0% over the year, Senator Rick Scott released a weekly update on his actions to address America's debt crisis and rising inflation. The PCE data released today is further proof that President Biden's inflation crisis, caused by his and Democrats' socialist policies and reckless government spending, continues to wreak havoc on the economy and shrink budgets for families as the prices of everyday goods continue to skyrocket.
Senator Rick Scott said, "The events that have unfolded in the past couple of weeks is further proof that we have real and serious economic issues at hand and tough economic headwinds in front of us. At the same time, inflation continues rage out of control—and as a result, everyday Americans are getting priced out of everyday goods. Thanks to the mishandling by the Biden administration, our economy is in a big mess, and much of it has been created as a result of the out of control spending up here in Washington. I will never stop fighting for Floridians against this economic wreckage Washington's obsession with spending has caused."
Since being elected to the U.S. Senate, Senator Scott has repeatedly urged action to address America's debt crisis and the harmful effects of inflation. Click HERE for a comprehensive list of his statements and actions on this urgent issue. Additionally, click HERE for Senator Scott's monthly Economic Snapshot.
See more from this week on Twitter: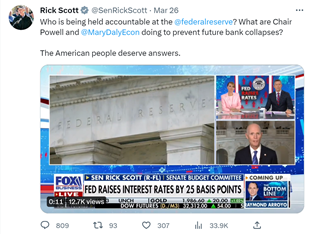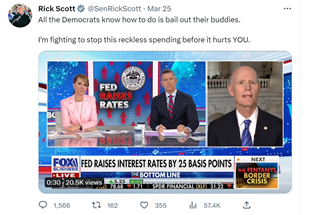 ###