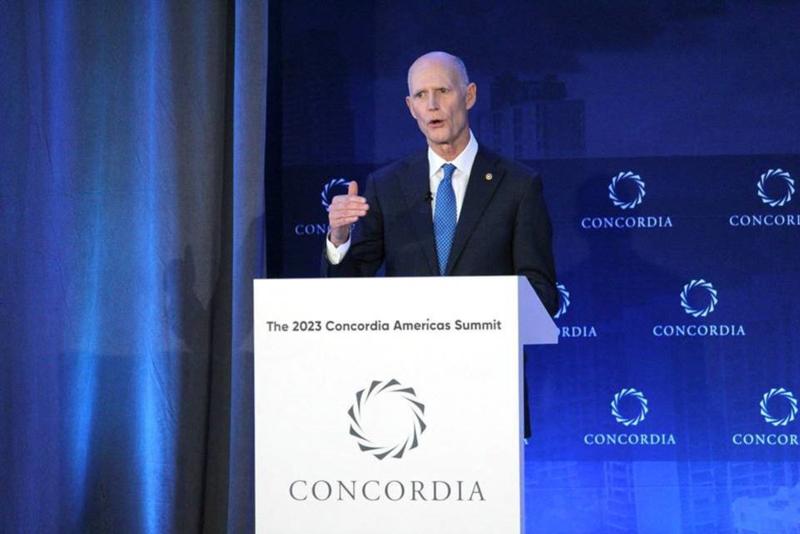 Photo courtesy of Concordia
---
MIAMI, Fla. – Today, Senator Rick Scott spoke at the 2023 Concordia Summit of the Americas at the University of Miami regarding the threats to freedom and democracy in Latin America due to the growing influence of oppressive regimes, like Communist China, Russia and Iran, in the Western Hemisphere. Senator Scott has been a staunch advocate for freedom-loving people across Latin America, and continues fighting to bring awareness to the serious issues that are threatening economic stability and prosperity in the region.
Read Senator Scott's remarks as prepared for delivery below.
"Good morning, it's a pleasure to be here with all of you today.
I've had the pleasure to be part of Concordia since 2019. It's great to see so many familiar faces in the room that I have gotten to meet and work with throughout the years.
Let me start with a simple fact: Communist China has chosen to be America's enemy.
It's simple. I wish it wasn't true, but it is. That's what I tell to almost everyone I meet and I've been warning my colleagues in the Senate every day about the threats that the Communist Chinese government poses.
So, you might be thinking, "Wait a minute, isn't this talk supposed to be about democracy in Latin America?"
Yes – and I'm here to tell you that almost nothing is a bigger threat to democracy in Latin America and across the Western Hemisphere than the growing influence of oppressive regimes like Communist China, Russia and Iran.
Communist China, Russia and Iran want to dominate the world. These evil regimes want to end democracy and destroy our way of life.
What we are all watching them do in Latin America is clear proof that what I am saying is true.
Here's what we know:
The fight for freedom and democracy is not just a noble cause for us, it is an essential one. America's national security depends on it.
Where freedom and democracy exist, America has strong allies.
Where freedom and democracy exist, America has trusted trade partners.
Where freedom and democracy exist, America has stability.
Where there is tyranny and oppression, America has adversaries.
Where there is tyranny and oppression, America doesn't have trade opportunities.
Where there is tyranny and oppression, America has no stability.
That's why Xi, Putin and the Ayatollah have no interest in joining the community of nations that we belong to. They only want to rule over the global community.
That's why they have partnered with the illegitimate communist regimes in Cuba, Venezuela and Nicaragua.
They know that by gaining a foothold in these countries, they can spread their influence like a cancer throughout Latin America and drive out the good power of freedom.
Ensuring that doesn't happen starts with promoting free markets and capitalism so the people of these nations can thrive and be independent of the oppression that dictators like Diaz-Canel and Maduro seek to force them into.
While I and many others, including many of you here, have been vocal in support of this movement. No one on Earth has a pulpit or voice that is as large or influential as the President of the United States.
Sadly, we have a president that is confused about this and refuses to use his voice and his power to support this righteous cause.
Joe Biden and most of the Democrats in Washington have completely abandoned Latin America.
Worse, we are seeing this administration actively choose the appeasement of Maduro and Diaz-Canel.
This not only emboldens these ruthless, murderous dictators…it also benefits their evil pals in Russia, Communist China and Iran.
So, it's clear to me what we need to do:
Denounce the communist regimes that are murdering innocent people in Cuba, Venezuela and Nicaragua and end the current appeasement of these brutal leaders.
Make clear that the United States stands with the people of Cuba, Venezuela and Nicaragua and will support their fight for freedom.
Cut ties with the evil regimes in Communist China, Russia and Iran that seek to grow their influence, maintain instability in Latin America and prevent freedom and economic prosperity.
Now again, you might be thinking to yourself, "He didn't say anything about trade with Cuba, Venezuela or Nicaragua. How can you promote capitalism without starting with trade?"
This is the flawed thinking that has led to many of the issues we face around the world today.
For decades, American leaders believed we could push China out of communism through more trade.
That clearly didn't work. What we did instead was to create a super economy in China that has even more resources and wealth to assert its communist influence and bully others on the world stage.
And now so much of America's economy has become dependent on communist China. For example, lifesaving drugs.
We cannot trade our way to democracy in Latin America either. Not yet.
First, we must crack down on the evil regimes there and remember that as long as these dictators are in power, every dollar of business we do with Cuba, Venezuela or Nicaragua does NOTHING for the people and simply funds the oppression of the evil regimes.
That's why I am fighting to pass my DEMOCRACIA Act which would hold the illegitimate communist Cuban regime accountable through severe sanctions and unprecedented financial pressure.
I'm proud to have the support of Senators Marco Rubio, Tim Scott, Tommy Tuberville and Roger Marshall on this bill in the Senate and I'm proud to work with Representatives Byron Donalds, Alex Mooney, Mario Díaz-Balart and María Salazar who introduced the companion bill in the House of Representatives.
It must be said that for decades, Cuba has been the root of instability in Latin America and a constant threat to the national security of the United States.
The illegitimate, communist Castro/Diaz-Canel regime harbors terrorist groups, has eliminated free and fair elections, threatens and arbitrarily arrests critics, journalists and political activists, and props up other ruthless dictators, like Maduro in Venezuela and Ortega in Nicaragua while providing a foothold in Latin American for Russia, Iran and Communist China to spread their influence.
Miguel Díaz-Canel has even cut internet connectivity to hide his brutal response and to silence the people.
Now more than ever, the Biden administration must stand up and lead the world in support of freedom and democracy in Cuba. Unfortunately, Biden failed to help restore cellular and internet service to the island during some of the largest protests seen in the last 60 years.
My DEMOCRACIA Act authorizes the president to use all means possible to provide internet to the Cuban people on the island. The power of action on this from the president cannot be overstated.
Passing the DEMOCRACIA Act is only part of the solution, but it would be a great place to start and we can do it RIGHT NOW.
We know that a free and prosperous Cuba would liberate the Cuban people and eliminate the source of socialist cancer in our Hemisphere.
The same is true in Venezuela and Nicaragua. And we are praying that we don't see a drift toward socialism and communism in Colombia and Brazil now that those nations are under the new leftist leadership of Petro and Lula.
As I said before, it's time for President Biden to stop his failed appeasement and punish the communist regimes for their crimes and make clear to our enemies and partners alike around the world that the time for strength in the fight for freedom in Cuba and the rest of Latin America is now.
But this fight doesn't just fall on the president. We all have to be willing to fight for the right thing.
A new day of freedom is coming and with it we will see a return to free markets and capitalism.
But the evil must be driven out first and NOW is the time to act.
We have a once in a generation opportunity here.
We cannot blink. We cannot blink. We must keep up the fight. Do what we have to do to protect our hemisphere.
Thank you all for what you do.
The United States stands with the people of Latin America in their fight for freedom and democracy. And we stand with the people of every country who have shown incredible strength and courage in the face of adversity.
We stand united in our common goal – freedom and democracy for the region, and security for the hemisphere."
###