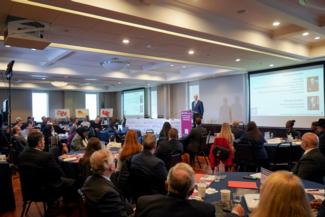 WASHINGTON, D.C. – Today, Senator Rick Scott spoke at the Partnership for Safe Medicine's 118th Congress Counterfeit Drug Briefing on the impact the deadly fentanyl crisis is having on our communities across the country. During his keynote address, Senator Scott emphasized the importance of those impacted by this deadly epidemic sharing their stories, highlighted his legislation to help stop the flow of fentanyl into American communities and discussed the impact that an open southern border is having on the safety and wellbeing of American families.
Senator Scott is fighting to pass the following bills to crack down on the deadly fentanyl crisis and protect American families. Senator Scott is also working with Senator Marco Rubio to pass the Felony Murder for Deadly Fentanyl Distribution Act. The bill makes the distribution of fentanyl, resulting in death, punishable by federal felony murder charges. Additionally, Senator Scott and his colleagues sent a letter to President Biden to urge him to pursue a comprehensive strategy to combat this epidemic by designating illicit fentanyl analogues and all precursor chemicals as weapons of mass destruction (WMD).
Eradicating Narcotic Drugs and Formulating Effective New Tools to Address National Yearly Losses of Life (END FENTANYL) Act
Requires the Commissioner of CBP to review and update the Office of Field Operations' policies and handbooks, as necessary and at least once every three years in order to respond to illegal activity, such as the trafficking of drugs and humans, along the border. Also requires the Commissioner of CBP to submit a report to the Committee on Homeland Security and Governmental Affairs of the Senate and the Committee on Homeland Security of the House of Representatives that summarizes the policy and manual changes every three years.
Stopping Online Confusion for Investigative Agencies and Law-enforcement by Maintaining Evidence Determined Interparty Arrangements (SOCIAL MEDIA) Act
Soon to be introduced, this bill will:
Instruct social media platforms to designate and promote a clear point of contact to provide information to law enforcement agencies who are carrying out their investigations. The bill will also help collect better data on illicit activity happening on social media platforms.
Uniform Postal Data Acquisition for Transparency and Early Detection within the United States Postal Service (UPDATED USPS) Act
Soon to be introduced, this bill will:
Curb the flow of fentanyl through the mail. The bill strengthens electronic data requirements on shipments from foreign adversaries, which blocks packages that lack digital tracking data. With these improvements, the U.S. will be able to stop foreign cartels from circumventing border patrol agents.
Upholding the Law at Our Border Act
The bill requires the Inspector General of the Department of Homeland Security to investigate the vetting and processing of migrants apprehended along the southwest border and to ensure that all laws are being upheld.
Opioid Response Action Data And Reforms (RADAR) Act
Soon to be introduced, this bill includes:
Liability Protection: The bill will provide professional and civil liability protections for healthcare providers, first responders, and lay administrators who take training on the proper administration of an opioid antagonist, if they administer such antagonist in good faith except in cases of gross negligence or willful or wanton misconduct.
Data Collection: The bill will allow the Secretary of HHS to issue grants to support improved data and surveillance on opioid-related overdoses, including activities to improve post-mortem toxicology testing, data linkage across data systems throughout the U.S., electronic death reporting, or the comprehensiveness of data on fatal and nonfatal opioid-related overdoses.
Office of National Drug Control Policy Changes: The Office of National Drug Control Policy (ONDCP) is an important agency that fights the drug crises we are seeing across the country and should be treated as such. This bill includes a Sense of Congress that the ONDCP Director should be a Cabinet-level position. This bill would also provide a series of other reforms, including working with DOJ and HHS to issue guidance on overdose deaths, codifying the Interagency Coordination Council, and applying the Congressional Review Act to final rules that are inconsistent with the National Drug Control Policy.
State Opioid Response Grants: This section would require the Assistant Secretary for Mental Health and Substance Abuse to include an assessment of challenges for grant recipients, accounting for variations in implementation in the annual report to Congress and would require best practices on how to address opioid-related overdoses to recipients.
Streamlining Text for Official Policy by Formulating Effective Needed Tools to Address Narcotics, Yearly Loss of Life and Protect Americans from Chemical Killers and Against Gangs Effectively Act (STOP FENTANYL PACKAGE)
This soon to be introduced bill includes:
Data Collection: The bill will allow the Attorney General to provide grants to improve data and surveillance related to opioid overdoses.
Law Enforcement Grants: The STOP FENTANYL PACKAGE allows the Attorney General to award grants to local law enforcement agencies in communities with high rates of overdoses to 1) provide training to help officers better identify overdoses, 2) upgrade essential systems for drug tracing and forensic laboratories, and 3) provide training to better trace criminals through the darknet. Additionally, this bill would allow COPS grants to go toward providing training and resources for containment devices to prevent secondary exposure for first responders.
Collaboration: This bill will direct the ONDCP to collaborate with the National Forensic Laboratory Information System and DOJ to create national standards for submission data into the system. The DEA will be directed to develop uniform reporting standards for purity, formulation, and weight, to allow for better comparison across jurisdictions. It also removes the automatic approval of reprogramming requests for funds that are specifically appropriated in line with the National Drug Control Strategy and Budget.
Fentanyl Profiling Program: This section will require the DEA to submit to Congress, as part of their annual report, the level of funding needed to effectively carry out this program.
Extending Limits of U.S. Customs Waters Act
This legislation extends the customs waters territory of the United States from 12 to 24 nautical miles from the baselines of the United States, allowing U.S. Customs and Border Protection (CBP) Air and Marine Operations (AMO) and the U.S. Coast Guard the jurisdiction necessary to keep American families safe from drug and human traffickers.
Caribbean Border Counternarcotics Strategy Act
Requires ONDCP to produce an overall strategy focused on preventing the illegal trafficking of drugs from the Caribbean region into the U.S., specifically relating to Puerto Rico and the U.S. Virgin Islands.
Read Senator Scott's remarks as prepared for delivery below.
"I want to thank Tom for that kind introduction, and I also want to thank the Partnership for Safe Medicines for all your hard work. What you all do is so important to the safety of our communities in Florida and across the country.
"Nobody in this room needs to be told how bad or deadly America's fentanyl crisis is. You are here because you know it's evil. You've seen its destruction and you are fighting to stop it.
"I meet with law enforcement all across Florida and the #1 thing I hear about from them is what are we doing to stop fentanyl from coming into our country and ripping our communities apart. Recently, I held roundtables in West Palm Beach and Volusia with law enforcement, and, I received a briefing from the Coast Guard and Border Patrol in the Florida Keys.
"Earlier this month, I hosted Miami Shores Police Chief David Golt as my guest for the State of the Union. He lost his son, Zachary to this horrible crisis.
"Fentanyl is killing more than 70,000 Americans a year, but until our border is secure, this battle will continue and we won't win it.
"It's not partisan to say that communities across this country are being inundated with dangerous drugs that are being smuggled across our borders. That's a fact and that's why I get so mad when bureaucrats up here refuse to acknowledge this border crisis. The two go hand in hand.
"Until this crisis at the border gets resolved, more families and more communities will face the devastating impacts of fentanyl.The amount of drugs border patrol is intercepting is unbelievable. TONS AND TONS OF ILLEGAL AND DEADLY DRUGS LIKE FENTANYL.
"So, I am fighting for solutions right now. When I was in business, I learned that the best way to get things done is to bring people together and start talking about how we solve problems. I'm doing that later today. Here are some of the things I am working on in the Senate right now.
"Last Congress, I was proud to see my END FENTANYL Act pass the Senate.
"U.S. Customs and Border Protection hasn't updated its drug interdiction guidance and field manuals in more than 20 years. Think about that. The field manual was written in 1999 predating the Dept of Homeland Security and this lethal fentanyl crisis.
"My bill will require CBP to update its policies at least once every three years to ensure everything is up to date. Codifying CBP's own internal policy which they have been ignoring. Unfortunately, this bill didn't pass the House last Congress so we have to start again if we want it to become law.
"I'm also working on legislation that provides state, local and federal agencies, in partnership with health care providers and first responders, much-needed tools and resources to combat this crisis and save lives.
"I've introduced bipartisan legislation to extend the United States' customs waters territory, from 12 miles to 24 miles, to give federal law enforcement the jurisdiction and authority it needs to cut down on drug and human trafficking so families everywhere remain safe.
"I also joined my colleagues to demand felony murder charges for the distribution of fentanyl and sent a letter to President Biden requesting the designation of illicit fentanyl analogues and all precursor chemicals as weapons of mass destruction.
"When it comes to illicit fentanyl analogues, our adversaries cannot be trusted and must be held accountable for the damage it is doing to the fabric of our nation.
"By appropriately classifying fentanyl as a WMD, we see the opportunity to properly infiltrate drug trafficking rings with suitable penalties for the death and destruction they are creating throughout the United States.
"I'm working to hold the Department of Homeland Security accountable so it will do its job and enforce the law. I introduced the Upholding the Law at Our Border Act to do just that.
"But the big legislation I want to talk to you about today is legislation to push all the big social media companies to tell us exactly what they're doing to stop the raging opioid crisis and how they are partnering with law enforcement to get drug dealers and dangerous criminals off our streets.
"I did a survey of FL Sheriffs to get a sense of their interactions with social media companies. I talked to sheriffs and local law enforcement and they said they had difficulty trying to contact someone, anyone, in the social media companies to get information on ongoing criminal cases.
"My bill, The SOCIAL MEDIA Act, will require social media companies to publicly disclose their law enforcement point of contact, disclose what information is needed for information requests for active investigations, and have a staffed call center available to law enforcement. It will also require all the social media companies to disclose reporting metrics to the FTC. We should know how well they police their networks and how fast they respond to law enforcement requests.
"I sent a letter to all the social media companies in January 2022 asking them basic questions like: How many accounts are reported for counterfeit pills? How many accounts are you proactively reporting? What is your average response time to law enforcement requests? How many subpoenas do you receive related to the selling or distribution of drugs on their platform?
"Most platforms didn't answer my questions, but I won't stop fighting for accountability and hope the FTC can get better answers when they and their advisory committee made up of law enforcement and advocates can develop clear reporting metrics.
"You are all leaders on combatting the fentanyl crisis and I want to thank you for everything you do to help victims, survivors, family members and friends. The most important thing you can do is to keep fighting and keep sharing your stories. Together we can end this crisis and save lives."
###