WASHINGTON, D.C. – Today, Senator Rick Scott released a weekly update on his actions to address America's debt crisis and rising inflation. Since being elected to the U.S. Senate, Senator Scott has urged government accountability to the American taxpayer. Following this week's Consumer Price Index (CPI) release from the Bureau of Labor Statistics (BLS), Senator Scott released the following statement:
This CPI is a shameful reminder that Americans have endured rising inflation for two full years under Joe Biden. Two full years of hardworking and poor families, like mine growing up, having to make tough choices when it comes to gas, groceries, and paying the bills. Biden will pretend to care about the hardworking families across this country, but I know firsthand how difficult it can be, so let me make this clear: I stand with you and will never stop fighting against Biden and Democrats' reckless tax and spending spree that has caused families so much pain. It's time for Congress to buckle down and focus on paying down the debt, living within our means, and getting our fiscal house in order. That's what I'm working on and I won't stop until we get it done.
Additionally, earlier this week following reporting that the U.S. Treasury Department may soon notify Congress that it is approaching the federal government's borrow authority, or debt ceiling, Senator Rick Scott issued a statement making clear that he will demand that any action on the debt ceiling be accompanied by significant, structural spending reform. Read more from Senator Scott regarding reforming the debt ceiling HERE.
Since being elected to the U.S. Senate, Senator Scott has repeatedly urged action to address America's debt crisis and the harmful effects of inflation. Click HERE for a comprehensive list of his statements and actions on this urgent issue.
See more from this week on Twitter: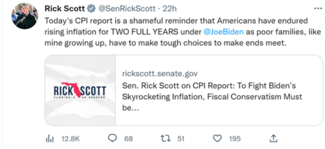 ###