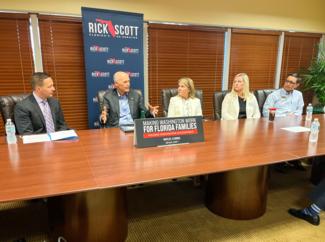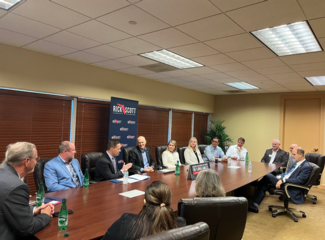 *Download High Resolution Photos HERE*
---
NAPLES, Fla. – Today, Senator Rick Scott continued his statewide 'Make Washington Work Tour' in Naples by hosting a roundtable discussion with Foundation for Government Accountability (FGA) CEO Tarren Bragdon and chamber, economic and businesses leaders to hear firsthand how Washington's dysfunction and burdensome regulations are impacting the success and growth of Florida job creators. Senator Scott discussed his work to end Washington's broken status quo and hold government accountable for its basic duties, like passing a budget, and getting things done that will benefit American families and protect the future prosperity of our nation.
Senator Scott was joined by Foundation for Government Accountability (FGA) CEO Tarren Bragdon, CEO of Foundation for Government Accountability; Michael Dalby, President of Greater Naples Chamber of Commerce; Lauren Melo, FL State Representative and small business owner; Bill McDaniel, Collier County Commissioner and small business owner; Matt Caldwell, Lee County Property Appraiser; Bernardo Barnhart of First1Bank, Vice President of Immokalee Eastern Chamber of Commerce Board of Directors; Bill Poteet, President of Poteet PropertiesLiesa Priddy, Owner JB Ranch; Grant Phelan, Owner Phelan Family Brands; Amelia Vasquez, Executive Officer Collier Building Industry Association; Lisa Swinto, SWFL Regional Director for Associated Builders and Contractors FL Gulf Coast Chapter; Gary Griffin, President & CEO of B&I Contractors; and Kathy Curatolo, Consulting Legislative Liaison, Collier Building Industry Association.
Senator Rick Scott said, "Right now, it's clear to Florida families that the only thing Congress is really good at is wasting billions, sometimes trillions, of your tax dollars with no accountability. Reckless federal spending is killing our country, driving inflation higher and must be stopped. I've been traveling the state, talking to small business and economic leaders, including here in Naples today, and they're FED UP. They can't run their businesses like this, and it's not how they expect their government to run either. We can't keep going down the path of business as usual and status quo in Washington with career politicians refusing to stand up for the principles they ran on and taxpayers who elected them. It's time to force leaders in Washington to DO OUR JOB, stand strong on our principles and be accountable to those that elected us to actually get things done that will benefit American families and protect the future prosperity of our nation. It's time for Republicans to be a BRICK WALL against Democrats' socialist agenda and do everything we can to get things done and save this country."
Senator Scott is fighting to Make Washington Work for families by ending D.C. dysfunction and holding government accountable with the following bills in the 118th Congress:
Imposing Congressional Term limits:
o To reimagine government and make it work in the best interests of American families, imposing term limits on self-interested career politicians is a great start. This proposal would amend the U.S. Constitution to impose term limits on Members of Congress. U.S. Senators would be limited to two six-year terms and members of the House of Representatives to three two-year terms. More HERE.
o To require members of Congress to do their job and work together to pass a budget and meet appropriations bill deadlines, or forgo their own salaries until the job is done. When hardworking Floridians fail at their job, they don't get a paycheck – Congress should be held to the same standard. More HERE.
o To require members of Congress to have enough time to read bills before voting on them and certify that they have read every bill they cast a vote on. This is common sense: Failing to read legislation before voting on it is a failure of the American people. More HERE.
Creating a Line-Item Veto on the federal level:
o To provide a modified version of line-item veto authority for the President of the United States. As Governor of Florida, Senator Scott went through the budget LINE BY LINE to make sure every tax dollar was spent efficiently and in the best interests of Floridians. In doing so, the budget was balanced, needs were prioritized and the economy grew. Washington can work this way too.
End Pensions in Congress (EPIC) Act & Banning Lobbying and Safeguarding Trust (BLAST) Act:
o To end taxpayer-funded pensions and implement a permanent lobbying ban for former members of the United States House of Representatives and the U.S. Senate. This ensures members of Congress aren't more focused on getting high-paying lobbying gigs and generous taxpayer-funded pensions than serving the taxpayers who elected them. More HERE.
The Let's Get to Work Act:
o To encourage Americans who are able to work to return to the workforce by ending the current suspension of work requirements for the Supplemental Nutrition Assistance Program (SNAP), which was put in in place during the pandemic, and establish the same work requirements for benefits through the Department of Housing and Urban Development's (HUD) Public Housing and Tenant-Based Rental Assistance programs (vouchers and public housing). More HERE.
Throughout this week and last, Senator Scott has traveled the state to preview his priorities for the 118th Congress to include several prongs of his Making Washington Work agenda, to include: securing the border and ending the deadly fentanyl crisis; standing up for human rights and democracy around the world; ending the D.C. dysfunction and holding government accountable to American taxpayers; growing the economy by reducing debt, promoting business growth and cutting taxes; and supporting America's military heroes, veterans and their families by honoring and serving those who have served to protect our freedoms.
###