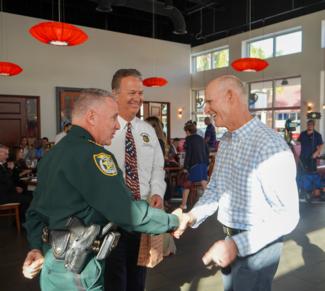 DORAL, Fla. – Today, Senator Rick Scott kicked off his 'Make Washington Work Tour' to highlight what he is fighting for in the U.S. Senate for Florida families and previewed his legislative priorities for the 118th Congress. Over the next few weeks, Senator Scott will be traveling across the Sunshine State to hear from Florida leaders about how we can Make Washington Work for our families, end the dysfunctional status quo that's led to $31 TRILLION in federal debt and soaring inflation, and make sure every family has the opportunity to live in a safe community, get a quality education and live the American dream.
Rosa María Payá, Cuban Freedom Activist and Founder of Cuba Decide; Admiral Peter Brown, Ret., United States Coast Guard; Irina Vilariño, Owner of Las Vegas Cuban Cuisine; Pastor Abraham Rivera of La Puerta Life Center; Catalina Stubbe of Director of Moms 4 Liberty; David Greenwell, Vice President of the Police Benevolent Association of South Florida and Sheriff Rick Ramsay of Monroe County Sheriff's Office were also in attendance.
Senator Rick Scott said, "It was great to be in South Florida today with so many great Florida leaders to talk about our fight to Make Washington Work for Florida families. While we've secured some big wins for the Sunshine State during my first four years in the United States Senate, our work is far from over. Washington is more broken and dysfunctional than ever, and folks up in DC seem to have forgotten that the government is supposed to WORK FOR YOU. So, these next two years, I'll be fighting even harder to Make Washington Work for ALL Floridians by ending the dysfunctional status quo, stopping the runaway reckless spending that's fueling President Biden's inflation crisis, making sure we SECURE THE BORDER and enforce our laws, and getting back to the basics of making sure every family has the opportunity to live in a safe community, send their child to a great school and get a great job so they can live their dreams. Floridians are tired of Washington's waste and dysfunction, but together we can make Congress play by Florida's rules and finally MAKE WASHINGTON WORK FOR THE SUNSHINE STATE."
Over the next two weeks, Senator Scott will preview his priorities for the 118th Congress to include several prongs of his Making Washington Work agenda, to include: securing the border and ending the deadly fentanyl crisis; standing up for human rights and democracy around the world; ending the D.C. dysfunction and holding government accountable to American taxpayers; growing the economy by reducing debt, promoting business growth and cutting taxes; and supporting America's military heroes, veterans and their families by honoring and serving those who have served to protect our freedoms.
###