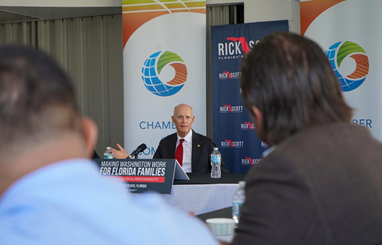 *Download High Resolution Photos HERE*
---
WEST PALM BEACH, Fla. – Today, Senator Rick Scott continued his 'Make Washington Work Tour' and hosted a roundtable in West Palm Beach to hear directly from business leaders about the issues impacting them and discuss his actions to address the dangers of Washington's out-of-control spending and the growing federal deficit, which are fueling a raging inflation crisis. As families in Florida and across America struggle to make ends meet with ever-rising prices, Senator Scott detailed his plans to unleash American energy, boost the U.S. economy and drive down costs for the American people after two years of President Biden's raging inflation crisis.
Senator Scott was joined by Kelly Smallridge, President and CEO of Palm Beach County Business Development Board; Don Burgess President and CEO Chamber of Commerce of the Palm Beaches; Troy McLellan, President and CEO of the Boca Raton Chamber of Commerce; Ken Lebersfeld, CEO of Capitol Lighting; Jacqueline Reeves, Managing Director of Bell Rock Capital, LLC; Noel Martinez, President and CEO of the Palm Beach North Chamber of Commerce; Robert Diffenderfer, Chair of the Board of Directors for the Chamber of Commerce of the Palm Beaches; Dr. Ava Parker, President of Palm Beach State College, Secretary of the Chamber of Commerce of the Palm Beaches; and Jimmy Johnson, Treasurer Chamber of Commerce of the Palm Beaches.
Senator Rick Scott said, "For nearly two years, we've seen the devastating impact of total Democrat control in Washington and heard from countless families in Florida about the pain it's causing them at home and in their businesses. Prices are up across the board nearly 14% since Joe Biden took office and his raging inflation is killing the American Dream for families in Florida and all across our country by putting financial stability out of reach. It's time for Washington to do what every family and business does: live within its means. That's why I'm fighting to make Congress balance the budget, start paying down our unsustainable $31 TRILLION in debt, cut taxes, promote job growth by cutting burdensome regulations, boost American energy independence and reduce inflation by stopping reckless government spending. That's how we created success during my eight years as Governor of Florida, and I won't stop fighting until we get it done in Washington."
Senator Scott is fighting to Make Washington Work by growing the economy, reducing the debt, promoting business growth and cutting taxes with the following bills in the 118th Congress:
GAS PRICE Act
To direct the Energy Information Administration (EIA) to report to Congress any policy or rule set by the Biden administration which raises energy costs for American families. Senate Democrats blocked its passage. More HERE.
Furthering Resource Exploration and Empowering (FREE) American Energy Act
To expedite the federal agencies' review process of applications for permits, waivers, licenses, or other authorizations related to energy production. This legislation would also reduce burdensome or unnecessary regulations originating from federal executive branch agencies and create an interagency process for energy production approval for states with federal lands. More HERE.
Federal Debt Emergency Control Act
To rein in Washington's out-of-control spending and provide a concrete path forward to tackle the nation's nearly $30 trillion debt. More HERE.
Full Faith and Credit Act
To ensure the federal government prioritizes funding for our military, veterans and seniors should the federal debt ceiling be reached with no action from Democrats to raise or suspend it. More HERE.
Repealing Tax Increase on Gig Workers, Self-Employed Americans
To repeal the hidden provision in the Democrats' $1.9 trillion "COVID" spending bill increasing reporting requirements, effectively increasing taxes, on gig workers and self-employed Americans.
Over the next two weeks, Senator Scott will preview his priorities for the 118th Congress to include several prongs of his Making Washington Work agenda, to include: securing the border and ending the deadly fentanyl crisis; standing up for human rights and democracy around the world; ending the D.C. dysfunction and holding government accountable to American taxpayers; growing the economy by reducing debt, promoting business growth and cutting taxes; and supporting America's military heroes, veterans and their families by honoring and serving those who have served to protect our freedoms.
Since being elected to the U.S. Senate, Senator Scott has repeatedly urged action to address America's debt crisis and the harmful effects of inflation. Click HERE for a comprehensive list of his statements and actions on this urgent issue or the latest on Twitter HERE.
###