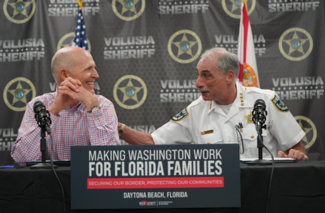 DAYTONA BEACH, Fla. – Today, Senator Rick Scott continued his 'Make Washington Work Tour' by hosting a roundtable at the Volusia County Sheriff's Office with law enforcement and substance abuse recovery experts to discuss his fight to secure the southern border and end the deadly fentanyl crisis. Under President Biden's failed agenda of amnesty and open borders, more than 5 million known migrants have illegally crossed the southern border and tons of deadly drugs, like fentanyl, have flooded into U.S. communities and taken more than 100,000 American lives in the last year alone.
Senator Scott was joined by Volusia County Sheriff Michael Chitwood, Seminole County Sheriff Dennis Lemma, Flagler County Sheriff Rick Staly, Karen Chrapek, Executive Director of Volusia Recovery Alliance, Inc. and Maureen France, Board President of Volusia Recovery Alliance, Inc.
Senator Rick Scott said, "Over the last few years, the crisis at our southern border has grown exponentially worse, and it is impacting Floridians more than it ever has before. When I talk to law enforcement officers in Florida I hear again and again how hard their job has become thanks to Joe Biden's radical open border policies. Unfortunately, every state is a border state right now, and Florida is really feeling the impacts right here in our own hometowns. It's become so bad that Dry Tortugas National Park recently closed down because so many migrants landed there attempting to illegally enter the United States. At the southern border, the amount of drugs our law enforcement are intercepting is unbelievable. Last year alone, border agents captured enough deadly fentanyl to kill billions of people. Florida is an immigration state and we love legal immigration, but until we end this crisis and SECURE THE BORDER, communities all over Florida will continue to face the devastating impacts of illegal immigration and more deadly fentanyl in our communities. I'm committed to fighting for Floridians and forcing Joe Biden to end his open border policies. This new Congress, I look forward to passing my bills like The Upholding The Law at Our Border Act, the END FENTANYL Act and the STOP FENTANYL PACKAGE Act to secure the border and finally put an end to this deadly fentanyl crisis. I will not stop until our border is secure and Florida families and the communities they live in are safe."
Senator Scott is fighting to Make Washington Work by securing Biden's open border and stopping America's deadly fentanyl crisis with the following bills in the 118th Congress:
Upholding the Law at Our Border Act:
To require the Inspector General of the Department of Homeland Security to investigate the vetting and processing of migrants apprehended along the southwest border and to ensure that all laws are being upheld. More HERE.
Extending Limits of U.S. Customs Waters Act :
To extend the customs waters territory of the United States from 12 to 24 nautical miles from the baselines of the United States, allowing U.S. Customs and Border Protection (CBP) Air and Marine Operations (AMO) and the U.S. Coast Guard the jurisdiction necessary to keep American families safe from drug and human traffickers. More HERE.
Eradicating Narcotic Drugs and Formulating Effective New Tools to Address National Yearly Losses of Life (END FENTANYL) Act :
To require the Commissioner of U.S. Customs and Border Protection (CBP) to update its policies at least once every three years to ensure operational field manuals, including their drug interdiction guidance, is up to date. Passed the Senate in the 117th Congress. More HERE.
Streamlining Text for Official Policy by Formulating Effective Needed Tools to Address Narcotics, Yearly Loss of Life and Protect Americans from Chemical Killers and Against Gangs Effectively (STOP FENTANYL PACKAGE) Act:
This six-pronged legislation provides state, local and federal agencies, in partnership with health care providers and first responders, much-needed tools and resources to combat this crisis and save lives. More HERE.
Caribbean Border Counternarcotics Strategy Act:
To require the Office of National Drug Control Policy to produce an overall strategy focused on preventing the illegal trafficking of drugs from the Caribbean region into the U.S., specifically relating to Puerto Rico and the U.S. Virgin Islands.
Over the next two weeks, Senator Scott will preview his priorities for the 118th Congress to include several prongs of his Making Washington Work agenda, to include: securing the border and ending the deadly fentanyl crisis; standing up for human rights and democracy around the world; ending the D.C. dysfunction and holding government accountable to American taxpayers; growing the economy by reducing debt, promoting business growth and cutting taxes; and supporting America's military heroes, veterans and their families by honoring and serving those who have served to protect our freedoms.
###