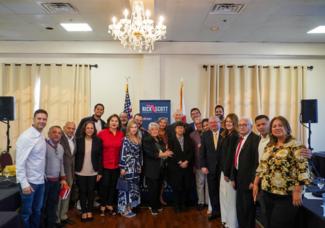 TAMPA, Fla. – Today, Senator Rick Scott continued his 'Make Washington Work Tour' and hosted a roundtable in Tampa to hear directly from freedom and democracy advocates and community leaders about their efforts to stand for freedom and democracy around the globe, and the challenges they're facing in this important fight. Senator Scott discussed several of his proposals to fight for freedom and democracy and stand against evil regimes in Communist China, Venezuela, Cuba and around the world. He also spoke to the need for the U.S. to stand with our allies, including Israel and Taiwan, for the betterment of U.S. national security.
Senator Scott was joined by freedom and democracy advocates, including representatives from Casa Venezuela, Casa Cuba and Venezuela USA Foundation.
Senator Rick Scott said, "It was great to be in Tampa today and hear from great community leaders who care so deeply about preserving and protecting freedom, democracy and human rights around the world. We all must unfortunately acknowledge that America's enemies, like Iran, Communist China, Venezuela, Cuba and Russia, want to destroy our way of life. Uniting these evil regimes is their shared commitment to stamp out freedom and democracy wherever it is found. Today, we once again heard why the fight for freedom and democracy is not just a noble cause for us, it is an essential one. America's national security depends on it. Where freedom and democracy exist, America has strong allies. Where freedom and democracy exists, America has trusted trade partners. Where freedom and democracy exist, America has stability. And where there is tyranny and oppression, America has none of these things. These are facts and while Joe Biden has ignored them and focused on appeasing dictators and dangerous regimes, I'll keep fighting for freedom, democracy and human rights in Latin American and around the globe, stand up for our great ally, Israel, and stand with Taiwan as it counters Communist China's aggression."
Senator Scott is fighting to Make Washington Work by standing up for human rights and democracy around the world to protect America's security with the following bills in the 118th Congress:
Denying Earnings to the Military Oligarchy in Cuba and Restricting Activities of the Cuban Intelligence Apparatus (DEMOCRACIA) Act
To hold the illegitimate communist Cuban regime accountable through severe sanctions and unprecedented financial pressure. More HERE.
Banning Operations and Leases with the Illegitimate Venezuelan Authoritarian Regime (BOLIVAR) Act
To prohibit federal agencies from doing business with anyone that supports the oppressive Maduro regime.
Stop Taxpayer Funding of Hamas Act
To ensure no American taxpayer dollars with be authorized to the territory of Gaza until the President certifies to Congress that these funds can be spent without benefitting terrorist organizations. More HERE.
Taiwan Invasion Prevention Act
To protect Taiwan from Communist China's growing aggression. The Taiwan Invasion Prevention Act further reinforces the U.S.-Taiwan relationship and strengthens Taiwan's ability to resist Communist China's aggressive policies and military actions. More HERE.
Additionally, Senator Scott highlighted his bipartisan Russia and Belarus SDR Exchange Prohibition Act, which recently passed Congress and was signed into law by President Biden. The Russia and Belarus SDR Exchange Prohibition Act prohibits the U.S. Treasury Secretary from exchanging dollars for International Monetary Fund (IMF) Special Drawing Rights (SDRs) held by Russia or Belarus. Russia and Belarus' SDRs currently total more than $25 billion and represent unconditional liquidity for the Putin and Lukashenko dictatorships, which is being used to finance the invasion of Ukraine. Read more about the bill HERE.
Throughout this week, Senator Scott will continue to preview his priorities for the 118th Congress to include several prongs of his Making Washington Work agenda, to include: securing the border and ending the deadly fentanyl crisis; standing up for human rights and democracy around the world; ending the D.C. dysfunction and holding government accountable to American taxpayers; growing the economy by reducing debt, promoting business growth and cutting taxes; and supporting America's military heroes, veterans and their families by honoring and serving those who have served to protect our freedoms.
###