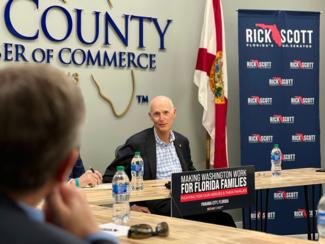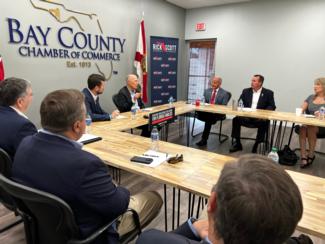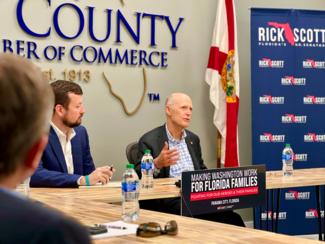 *Download High Resolution Photos HERE*
---
PANAMA CITY, Fla. – Today, Senator Rick Scott continued his 'Make Washington Work Tour' by hosting a roundtable discussion with military, veteran and economic leaders to hear about their efforts to make Florida's Panhandle the best place for our military, veterans and their families to succeed. Senator Scott discussed his work as U.S. Senator and member of the Senate Armed Services Committee to support Florida's military bases, members, veterans and families, and make our nation the most lethal military force in the world. This includes several major wins Senator Scott fought for and secured in this year's National Defense Authorization Act.
Senator Scott was joined by military, veteran and economic community leaders, including honorary military leaders from Tyndall Air Force Base, Bay County Chamber, Bay County Defense Alliance and One Okaloosa Economic Development Council.
Senator Rick Scott said, "Our great state of Florida is unique with such a strong and active military presence, home to 21 military bases, and a strong and thriving population of veterans who chose to make Florida their home after service. That's on full display in the Florida Panhandle, and it was great to join military, veteran and economic leaders to hear firsthand about their efforts to support this incredible community, and how I can best support them in Washington. Since coming to the Senate four years ago, I've fought hard to secure major investments in America's defense capabilities and to support Florida's military bases and our military families. Over the last four years, we've secured great wins in the annual NDAA to support our military and defense, but there is still work to do to ensure our nation remains the most lethal military force in the world. As a member of the Senate Armed Services Committee, I'll keep fighting harder than ever to make sure the Sunshine State, America's national security initiatives, our military, veterans and their families are supported, and to provide the answers we need on Biden's botched Afghanistan withdrawal."
Senator Scott has continuously fought to Make Washington Work by supporting America's military, members and veterans and their families throughout his four years as U.S. Senator:
The PACT Act, which was signed into law last year, to deliver needed and deserved care and resources to veterans in Florida and across the nation.
NDAA wins throughout the years:

In 2019, more than $1.5 billion to rebuild Tyndall Air Force Base following Hurricane Michael;
In 2020, the Secure U.S. Bases Act to reform and improve foreign military student training programs following the terrorist attack at Naval Air Station Pensacola.

This important bill requires a thorough vetting process before a foreign student enters the U.S., requires foreign students to follow rules established by U.S. Base Commanders and vastly improves the security of our military installations, service members, their families and the surrounding communities.

In 2021, funding to continued mission of F-35 squadrons at Tyndall Air Force Base; as well as funding for than $170M for military construction projects for bases across Florida and more than $130M for key national security projects that help support Florida bases.
And the 2022 NDAA, which has several measures that Senator Scott been fighting for:

$857.9 billion in national defense spending - $45 billion more than President Joe Biden's inadequate budget request;
A 4.6% pay raise for military service members;
$635 million for construction projects, training facilities and access to and quality of childcare on Florida's military bases; and
Recession of the President Biden and the Pentagon's illogical and harmful COVID-19 vaccine mandate amid the massive recruiting crisis.
Senator Scott will continue to build on these efforts with several proposals in the 118th Congress:
Reinstatement, with backpay, for service members who were unfairly discharged relating to the COVID-19 vaccine:
Senator Scott led his colleagues in a letter urging Secretary Austin to establish a quick and thorough process so all members who were discharged because they refused the COVID-19 vaccine can be reinstated with back pay and full benefits. More HERE.
The Defending Religious Accommodations Act:

To require the Government Accountability Office to audit the military's current process for evaluating and granting religious exemptions for vaccination requirements. More HERE.
Establishing a bipartisan Joint Select Committee on Afghanistan:
To establish a committee, composed of members of the House and Senate, to conduct a full investigation into President Biden's failed and tragic withdrawal of U.S. forces from Afghanistan that stranded hundreds of Americans behind enemy lines, left billions of dollars in U.S. military equipment in the hands of terrorists and took the lives of 13 brave U.S. service members. More HERE.
Senator Scott has been traveling the state to preview his priorities for the 118th Congress to include several prongs of his Making Washington Work agenda, to include: securing the border and ending the deadly fentanyl crisis; standing up for human rights and democracy around the world; ending the D.C. dysfunction and holding government accountable to American taxpayers; growing the economy by reducing debt, promoting business growth and cutting taxes; and supporting America's military heroes, veterans and their families by honoring and serving those who have served to protect our freedoms.
###