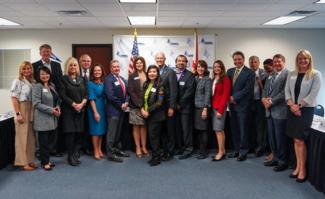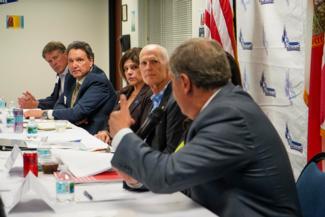 JACKSONVILLE, Fla. – Today, Senator Rick Scott continued his statewide 'Make Washington Work Tour' in Jacksonville and hosted a roundtable discussion with higher education and school choice leaders, as well as parent advocates, to hear directly from them and discuss his actions to make higher education affordable for every family and ensuring access to educational opportunities that fit students best by maximizing school choice for all K-12 students. Senator Scott discussed several of his proposals to bring Florida's educational success nationwide, keep tuition affordable, and ensure parents, not the government, have a say in their child's education.
Senator Scott was joined by Belinda Keiser, Vice-Chancellor, Keiser University; Lisa Marie Winslow, President of Keiser University Jacksonville Campus; Dr. John Avandano, President, Florida State College at Jacksonville; Dr. Moez Limayem, President, University of North Florida, and other Northeast Florida Education leaders.
Senator Rick Scott said, "I have long believed that parents, not the government, know what is best for their children. That's why, in Florida, I've fought to make sure that school choice isn't just for the elites—it is for everyone. Every family deserves the chance to send their child to the school that best meets their needs: whether that's public school, homeschooling or a private school. And no family or student should worry that attending a college or university will break the bank or rack up mountains of debt. When I was governor of Florida, I fought every day to make our education system the best in the nation, from K-12 to our colleges and universities. Our hard work with the leaders of Florida's colleges and universities allowed us to maximize school choice and educational outcomes for K-12 students, while keeping higher education affordable by holding the line on tuition and demanding cost transparency. These actions not only make sense for Florida families, they helped improve our school systems and make Florida the #1 state in the nation for higher education, according to U.S. News and World Report. It was great to be with so many education leaders in Jacksonville today to hear their ideas and share my plans to bring the Florida model nationwide."
Senator Scott is fighting to Make Washington Work for students and families by maximizing school choice and ensuring affordability with the following bills in the 118th Congress:
Changing Our Learning, Loans, Endowments, and Graduation Expectations (COLLEGE) Act

To force universities to take more responsibility when it comes to preparing students for successful careers and to hold university administrators accountable for unacceptable skyrocketing price of education. Senator Scott's legislation puts higher education institutions on the hook for student debt, implements reporting requirements for metrics related to student success and ensures that massive university endowments benefit students and families first. More HERE.

Debt Cancellation Accountability Act

To prevent the Biden administration from enacting an overreaching, fiscally irresponsible blanket cancellation of student loans by requiring the U.S. Department of Education to obtain an express appropriation from Congress to pay for any federal student loan debts the Department proposes to waive, discharge, or otherwise reduce whenever granted to two or more borrowers in an amount greater than $1,000,000, rather than on a case-by-case basis. More HERE.

Parental Rights resolution

Supporting parents' rights to be fully and actively involved in the education of their children.
Throughout this week, Senator Scott will continue to preview his priorities for the 118th Congress to include several prongs of his Making Washington Work agenda, to include: securing the border and ending the deadly fentanyl crisis; standing up for human rights and democracy around the world; ending the D.C. dysfunction and holding government accountable to American taxpayers; growing the economy by reducing debt, promoting business growth and cutting taxes; and supporting America's military heroes, veterans and their families by honoring and serving those who have served to protect our freedoms.
###