WASHINGTON, D.C. – Today, Senator Rick Scott released a weekly update on his actions to address America's debt crisis and rising inflation. As Congress continues debate over government funding ahead of the September 30th expiration deadline, earlier this week, Senator Rick Scott released the following statement demanding the passage of a "clean" Continuing Resolution (CR) that simply maintains current federal functions and programs until a new Congress begins in 2023:
Senator Rick Scott said, "Month after month for the last two years, Democrats and President Joe Biden have been able to advance their radical agenda while Republicans are getting NOTHING in return for the families we represent. It's time for the broken business-as-usual routine in Washington to end. Today, I am urging every Republican to demand that Congress pass a clean CR that simply maintains current federal spending levels. We cannot cave to the demands of the Democrats carrying out an agenda led by a raving lunatic in the White House. We, as Republicans, must stand strong and demand nothing more than clean government operations until a new Congress begins.
"Doing this will not result in any cuts to funding or services and will ensure that the federal government continues to operate as it must for the American people until a new Congress begins in 2023. If members have other new issues, whether they involve appropriations or not, I hope they will bring them forward for individual votes so we can quickly act on them. Anything that is truly urgent can and should be voted on as soon as possible, not held hostage so it can be used as a political weapon in a government funding bill."
Last week, Senator Scott called on Congressional Republicans to join his fight this month to repeal the Democrats' partisan plan to supersize the Internal Revenue Service (IRS) with $80 BILLION and 87,000 new employees, and demand passage of his Debt Cancellation Accountability Act to reverse Joe Biden's unlawful decision to spend hundreds of billions of tax dollars to "forgive" student loan debt and force this issue to be decided by Congress. Read more HERE.
Since being elected to the U.S. Senate, Senator Scott has repeatedly urged action to address America's debt crisis and the harmful effects of inflation. Click HERE for a comprehensive list of his statements and actions on this urgent issue.
See more from this week on Twitter: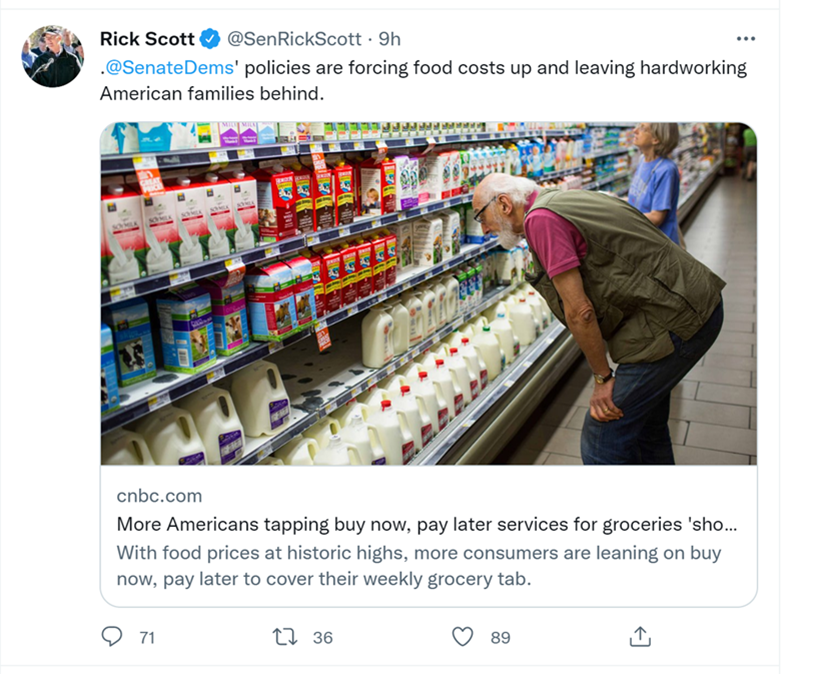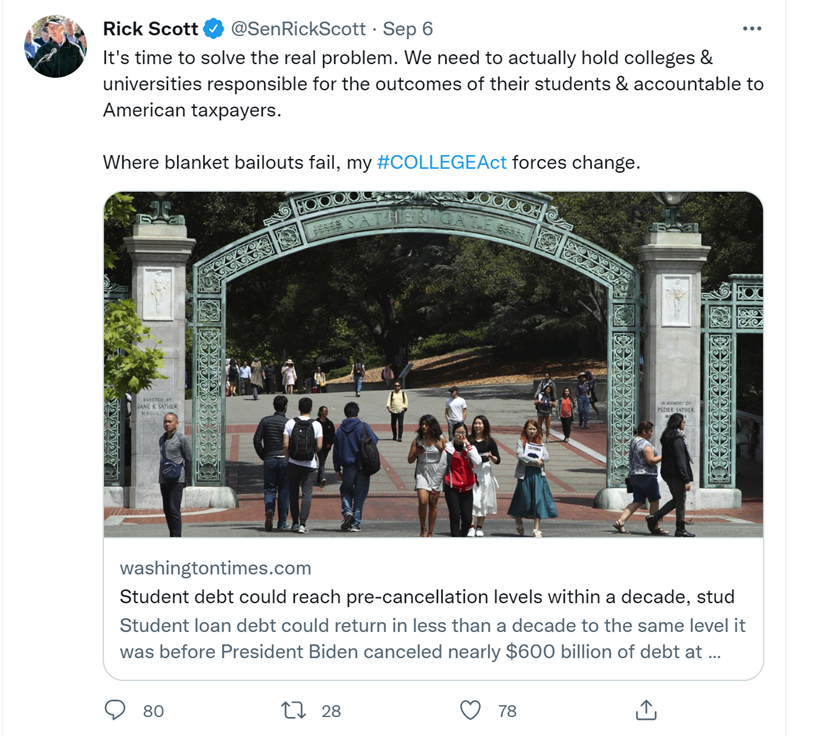 ###