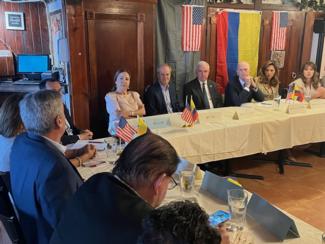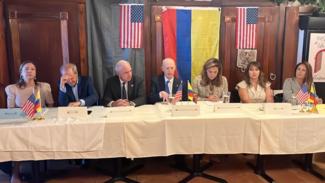 DORAL, Fla. – Today, Senator Rick Scott held a roundtable discussion with Representatives Carlos Giménez and María Elvira Salazar, as well as Colombian business and community leaders in Doral to discuss Colombia's future under Gustavo Petro, the Senator's continued support for the Colombian community and his efforts to bring freedom and democracy to Latin America.
Prior to the roundtable, Senator Scott recognized Miami-Dade County Commissioner Rebeca Sosa for her decades in public service and incredible efforts to represent her community.
Senator Rick Scott said, "The United States and Colombia share a commitment to promoting security, prosperity, human rights and democracy across the Western Hemisphere. For decades, Colombia has been our greatest democratic ally in Latin America and a partner in combatting drug trafficking. But now that Gustavo Petro is the President of Colombia, I am very concerned about the future of the democracy and the stability of Colombia, and the region. Sadly, Joe Biden – the man who is supposed to be the leader of the free world – is nowhere to be found. Unlike Joe Biden, I will never turn my back on the people of Colombia, or Latin America. And I am proud to stand with Colombia in the fight to defend freedom and democracy."
###
DORAL, Fla. – El Senador Rick Scott sostuvo una mesa redonda con los Representantes Carlos Giménez y María Elvira Salazar, así como líderes empresariales y comunitarios colombianos en Doral para discutir el futuro de Colombia bajo Gustavo Petro, el continuo apoyo del Senador a la comunidad colombiana y sus esfuerzos por llevar la libertad y la democracia a América Latina.
Antes de la mesa redonda, el Senador Scott reconoció a la Comisionada del Condado de Miami-Dade, Rebeca Sosa, por sus décadas de servicio público y sus increíbles esfuerzos para representar a su comunidad.
El Senador Rick Scott dijo: "Estados Unidos y Colombia comparten el compromiso de promover la seguridad, la prosperidad, los derechos humanos y la democracia en todo el Hemisferio Occidental. Durante décadas, Colombia ha sido nuestro mayor aliado democrático en América Latina y un socio en la lucha contra el narcotráfico. Pero ahora que Gustavo Petro es el presidente de Colombia, estoy muy preocupado por el futuro de la democracia y la estabilidad de Colombia y la región. Lamentablemente, Joe Biden, el hombre que se supone que es el líder del mundo libre, no se encuentra por ninguna parte. A diferencia de Joe Biden, nunca le daré la espalda a la gente de Colombia o América Latina. Y estoy orgulloso de estar con Colombia en la lucha por defender la libertad y la democracia".
###