WASHINGTON, D.C. – Today, Senator Rick Scott released a weekly update on his actions to address America's debt crisis and rising inflation. This week, Senator Rick Scott has continued his fight against the so-called "CHIPS Act," a $250 billion pro-China spending spree, that gives the Biden administration a wide open door to continue their reckless socialist policies. Just this week, the Congressional Budget Office released a report estimating the "CHIPS Act" will raise the federal deficit by $79 billion, further fueling Biden's record-breaking inflation crisis.
Senator Rick Scott said, "Biden's inflation crisis is costing Florida families nearly $800 extra every month. It's an incompetence tax on the hardworking Floridians just trying to make ends meet. Now, Democrats want to pass a $250 billion 'CHIPS Act' that will make the problems we have at home harder by increasing inflation. We know that what causes inflation—reckless government spending. A vote for CHIPS is a vote for inflation, a vote to help communist China, and a vote to add $79 BILLION to the federal deficit. I will keep fighting to stop Biden's pro-China, America-last policies, and I'll do everything I can to put an end to his inflation crisis—the American people deserve better."
Since being elected to the U.S. Senate, Senator Scott has repeatedly urged action to address America's debt crisis and the harmful effects of inflation. Click HERE for a comprehensive list of his statements and actions on this urgent issue.
See more from this week on Twitter: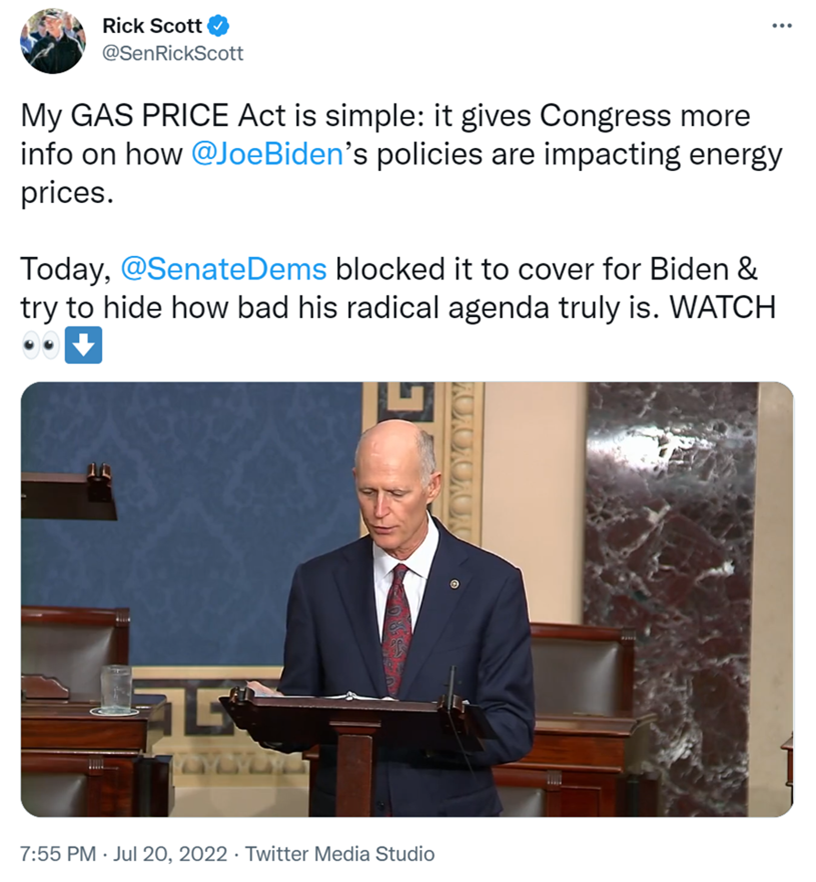 ###