WASHINGTON, D.C. – Today, Senator Rick Scott released a weekly update on his actions to address America's debt crisis and rising inflation following the release of June's skyrocketing inflation data. Data continues to show a significant increase in inflation every month of Biden's presidency with Consumer Price Index increasing 9.1% and Producer Price Index increasing 11.3% over the year. June's data marks a record-breaking 41-year inflation high under Joe Biden's failed leadership. Earlier this week, following the release of the PPI data, Senator Scott released the following statement:
Senator Rick Scott said, "Joe Biden's raging inflation is bankrupting families across this nation. The inflation hitting families right now is Joe Biden's fault – full stop. Let's think about how this is hurting families in my state. At current inflation levels, Florida households are paying more than $9,000 extra per year for everyday goods like groceries and gas since Biden took office. That's nearly $800 in extra costs EVERY MONTH and what does Joe Biden want to do next? Raise taxes on EVERY AMERICAN FAMILY. It's a shameful plan, especially given that Biden's incompetence and failure to stop inflation has already created another new tax—an inflation incompetence tax—for every hardworking Floridian. Biden needs to face the facts: his reckless spending is exactly what is causing this crisis, his war on American energy is significantly contributing to rising gas prices, and hardworking Americans, and poor families like mine growing up, are struggling more than ever. Americans are smart—they know Joe Biden is asleep at the wheel. He needs to wake up or resign immediately."
Since being elected to the U.S. Senate, Senator Scott has repeatedly urged action to address America's debt crisis and the harmful effects of inflation. Click HERE for a comprehensive list of his statements and actions on this urgent issue.
See more from this week on Twitter: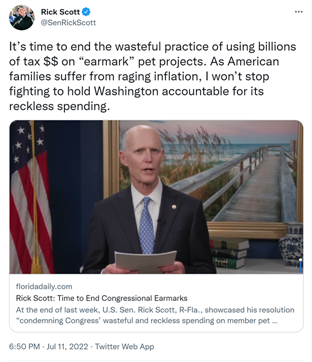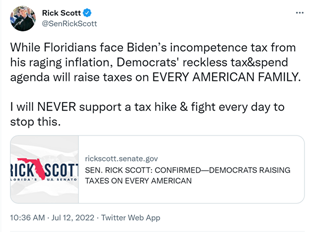 ###