WASHINGTON, D.C. – Today, Senator Rick Scott released a weekly update on his actions to address America's debt crisis and rising inflation. Since being elected to the U.S. Senate, Senator Scott has urged government accountability to the American taxpayer. Following this week's Consumer Price Index (CPI) release from the Bureau of Labor Statistics (BLS) on Wednesday, Senator Scott released the following statement:
Senator Rick Scott said, "Joe Biden has NO PLAN to fight the inflation crisis he has caused, and families all across America are experiencing this crisis every day. Yesterday, I invited President Biden to come to Florida for a debate on the economy and how to best fight inflation, but he's too scared to leave his teleprompter in the White House and take me up on it. While Biden hides, across America we are seeing the highest gas prices in the history of our country, a low labor participation rate, a GDP that is declining and mortgage rates rising. Biden's raging inflation is a tax on every American. Families are suffering, but Blame-Game Biden refuses to take responsibility. It's clear that Biden is the problem. He is incoherent and confused and he needs to resign."
Since being elected to the U.S. Senate, Senator Scott has repeatedly urged action to address America's debt crisis and the harmful effects of inflation. Click HERE for a comprehensive list of his statements and actions on this urgent issue.
See more from this week on Twitter: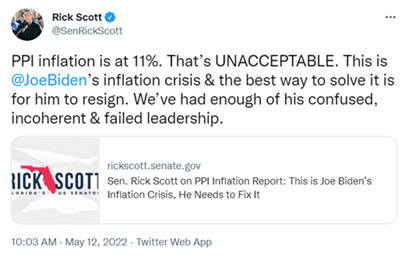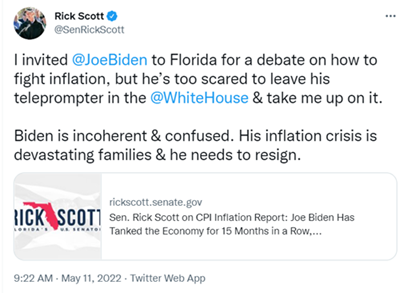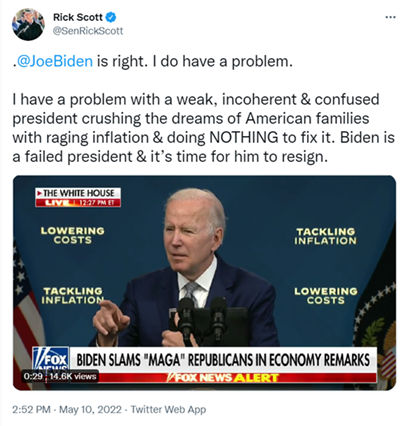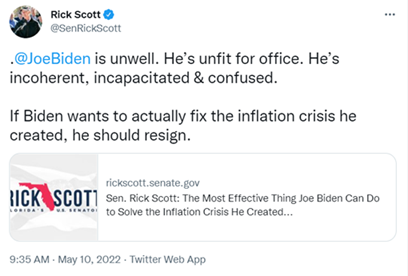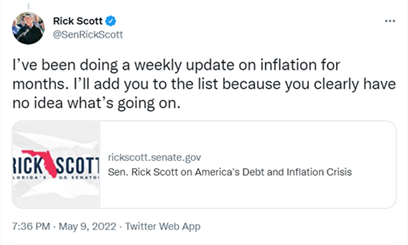 ###