WASHINGTON, D.C. – Today, Senator Rick Scott spoke on the Senate Floor to express his disapproval of President Joe Biden's nominees to the Board of Governors of the Federal Reserve and slam their disastrous policy decisions which continue to distort credit markets and hurt America's poorest families and those on fixed incomes.
Senator Rick Scott said, "FOR YEARS, I have urged Fed Chair Jay Powell and members of the Federal Open Market Committee to reduce the Fed's unprecedented balance sheet – but they have failed to act. Month after month, the Fed has purchased BILLIONS in Treasuries and Mortgage-Backed Securities, with no plan to wind down and right size its balance sheet. At every turn in recent years when the Fed could have been fighting for American families by mitigating the long-term risks of its massive balance sheet and telling the truth about the terrible consequences of reckless government spending, it instead chose to appease Joe Biden, Wall Street and the Democrats running Washington. These nominees have completely failed the American people and don't deserve to hold their seats."
Watch more in the video HERE or below.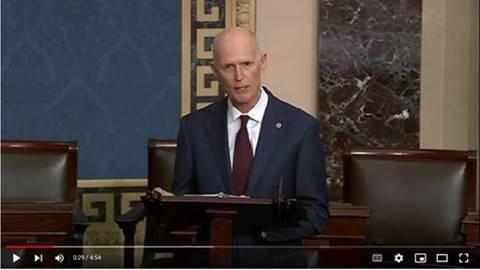 ###