WASHINGTON, D.C. – Today, Senator Rick Scott released the below statement following the Bureau of Economic Analysis report noting the Personal Consumption Expenditures (PCE) Price Index has risen to 6.6% over the year. This is the largest annual increase in the PCE Price Index since 1982 – marking a 40-year high in prices under Joe Biden's failed leadership. This data shows how President Biden's inflation crisis, caused by his and Democrats' socialist policies and reckless government spending, is shrinking budgets for families as the prices of everyday goods continue to skyrocket.
Senator Rick Scott said, "Inflation is a tax on every American and under President Biden's failed leadership, that tax is going up every month. Joe Biden can keep lying about how 'great' the economy is doing and using all the excuses he wants, but here are the facts: inflation is the worst we've seen in more than 40 years, the economy is shrinking, labor participation is shockingly low and labor costs are at record highs we haven't seen in two decades. For small businesses and our poorest families, like mine growing up, Biden's raging inflation crisis is absolutely devastating. Hardworking Floridians simply can't afford another two-and-a-half years of Joe Biden's reckless, socialist policies and tax and spend agenda."
Since being elected to the U.S. Senate, Senator Scott has repeatedly urged action to address America's debt crisis and the harmful effects of inflation. Click HERE for a comprehensive list of his statements and actions on this urgent issue.
See more from this week on Twitter: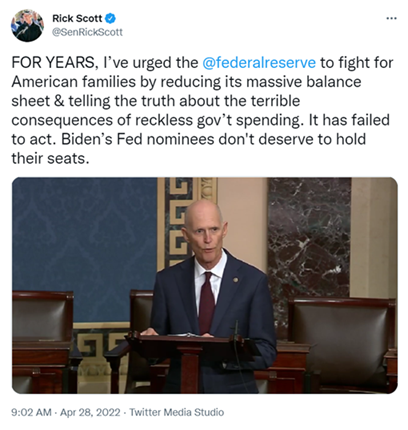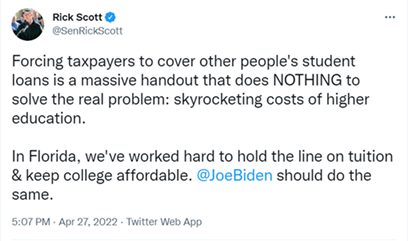 ###