WASHINGTON, D.C. – Today, Senator Rick Scott released a weekly update on his actions to address America's debt crisis and rising inflation as the federal debt continues to skyrocket over $30 trillion. Following a report that President Joe Biden will submit another weak defense spending proposal that does not keep up with his skyrocketing inflation crisis, Senator Rick Scott released the following statement:
Senator Rick Scott said, "As Russia wages war on Ukraine and threatens the West, North Korea is launching ballistic missiles and Communist China plans an invasion against Taiwan, President Biden is choosing weakness over strength. At a time when the United States should be bolstering our defense spending, Joe Biden's latest pathetic spending request does not keep up with the inflation crisis he has caused — effectively cutting defense spending and leaving our country in a vulnerable position. Biden's raging inflation crisis is hurting America in every way possible and with threats around the world growing every day, we cannot afford more weakness."
Since being elected to the U.S. Senate, Senator Scott has repeatedly urged action to address America's debt crisis and the harmful effects of inflation. Click HERE for a comprehensive list of his statements and actions on this urgent issue.
See more from this week on Twitter: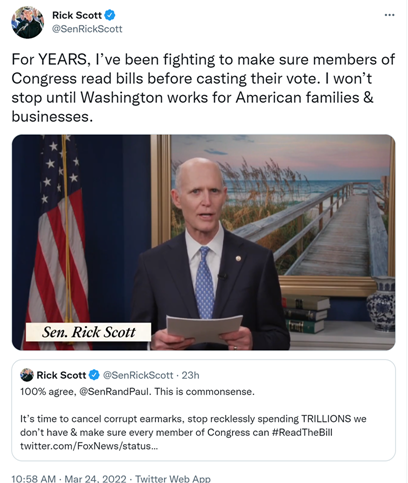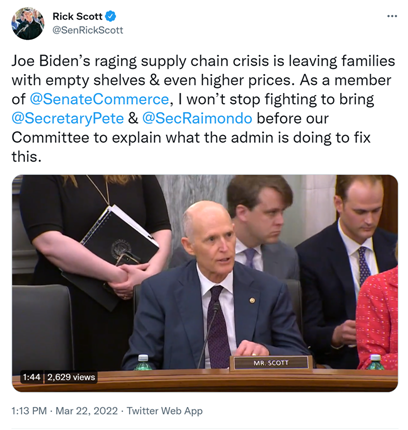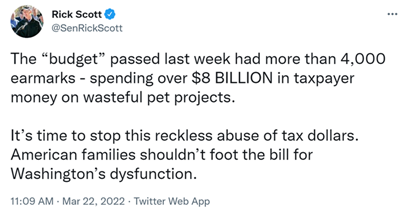 ###