WASHINGTON, D.C. – Today, following its unanimous passage in the Senate, Senator Rick Scott is calling on the U.S. House of Representatives to immediately pass the Sunshine Protection Act to end the twice-yearly time change and make Daylight Saving Time the national year-round standard. In 2018, as Governor of Florida, Senator Scott signed legislation which, pending federal approval, would exempt Florida from the time change practice and allow the state to remain on Daylight Saving Time year round. Senator Scott is leading this bill with Senator Marco Rubio.
Senator Rick Scott said, "Today is a great day for sunshine and for the Sunshine State! Changing the clock twice a year is outdated and unnecessary. We need to give families in Florida more sunshine, not less. Since I was Governor, I have been leading the charge to make Daylight Saving Time permanent. I want to thank Senator Rubio and all our colleagues for their unanimous passage of this commonsense legislation. The House should immediately vote on this good bill and send it to the president's desk."
Read more about the Sunshine Protection Act below.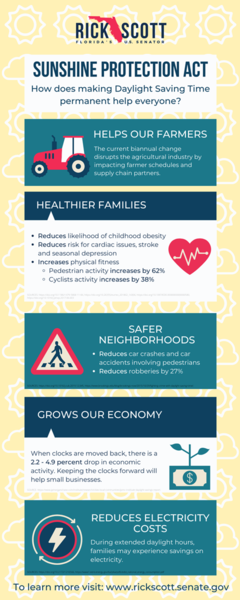 ###