WASHINGTON, D.C. – Today, Senator Rick Scott released a weekly update on his actions to address America's debt crisis and rising inflation following the announcement that the Personal Consumption Expenditure (PCE) price index increased 6.1 percent from one year ago, the highest reading since 1982—a clear indication that Democrats' reckless, socialist spending agenda is only further fueling President Biden's raging inflation crisis.
Senator Rick Scott said, "Under Joe Biden's failed leadership, America's poorest families, like mine growing up, are really struggling to make ends meet. They are having to choose between gas and groceries. Shelves are empty. Gas prices are skyrocketing. What has Biden done to fix it? NOTHING. Biden's failures at home and abroad have created miserable uncertainty for families in Florida and across America. Our country can't afford another year of his missteps and failures."
Since being elected to the U.S. Senate, Senator Scott has repeatedly urged action to address America's debt crisis and the harmful effects of inflation. Click HERE for a comprehensive list of his statements and actions on this urgent issue.
See more from this week on Twitter: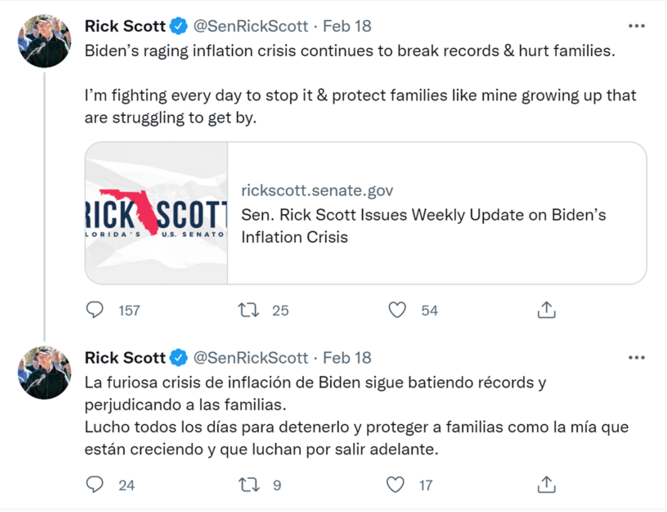 ###