WASHINGTON, D.C. – Today, Senator Rick Scott secured a full vote of the United States Senate on his amendment to the week-long continuing resolution to stop the IRS from adding 87,000 new agents to audit families and small businesses. Senator Scott's amendment would also repeal a provision that allows the IRS to spy on every financial transaction of more than $600 made with Americans' bank accounts through vendors like CashApp, Venmo and PayPal. Although a bipartisan group, including all Senate Republicans, supported the amendment, Senate Democrats ultimately blocked its approval.
Watch Senator Scott's speech in support of his amendment HERE or below. Read Senator Scott's remarks as prepared for delivery below.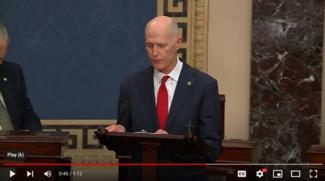 "Everyone in this Chamber has spoken about the pain American families are feeling as they deal with the raging inflation brought on by Joe Biden's reckless spending. So it was shocking to many of us when Senate Democrats approved $70 BILLION to supersize the IRS with 87,000 new agents. That means more audits on families and small businesses just as they struggle to get by, thanks to skyrocketing prices.
"What's worse, the Biden administration is also changing IRS standards to begin tracking every financial transaction Americans make in excess of $600, including on CashApp, Venmo and PayPal. It's an outrageous violation of Americans' privacy. It's stuff we see in Communist China.
"That's why I've filed an amendment to strike the funding for the new IRS agents and prevent the IRS from spying on your bank account. I urge my colleagues to protect Americans' privacy, stop the ridiculous audits on families, and support my amendment."
###