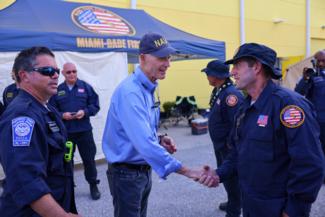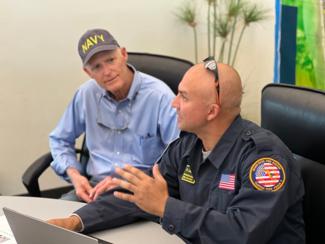 FORT MYERS, Fla. — Today, Senator Rick Scott visited with members of Miami-Dade Fire Rescue Urban Search & Rescue team, Florida Task Force 1, to thank them for their life-saving work to rescue Floridians trapped by floodwaters in Southwest Florida.
Senator Rick Scott said, "The members of Florida Task Force 1 are some of the finest in the world when it comes to search and rescue. It's dangerous work, but their operations are saving lives. Their response, just like when they responded to the Surfside tragedy last year, makes a huge impact. I'm grateful for their sacrifice to put their own lives on the line to protect fellow Floridians, and I was honored to be with them today so I could personally thank them for their service. They're heroes, and because of their efforts, families can start to rebuild and recover."
See Senator Scott's Hurricane Information webpage HERE. Senator Scott urges Floridians impacted by the storm to follow guidance from local officials. Stay up-to-date with information from your local Emergency Management officials. Impacted Floridians should not return home until the area is declared to be safe by local officials. Read more from FEMA about returning home HERE. See the latest on Hurricane Ian response and recovery from FEMA at www.fema.gov/disaster/hurricane-ian and from the Florida Division of Emergency Management at floridadisaster.org or @FLSERT on Twitter.
###