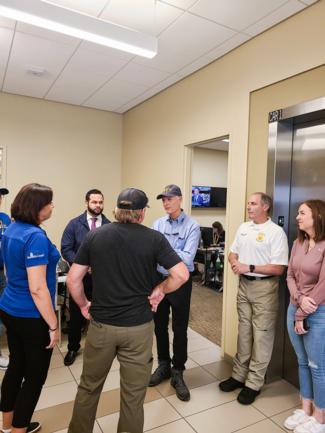 SARASOTA, Fla. – Today, Senator Rick Scott visited Sarasota County and assessed damage in local communities, met with the Sarasota mayor and visited with local businesses following the landfall of major Hurricane Ian. Senator Rick Scott continues to travel to impacted areas of Florida, surveying damage and meeting with state and local leaders as the state begins recovery efforts. See more from his visit to Lee County HERE and Charlotte County HERE.
Senator Rick Scott said, "Sarasota County is hurting but, like every community across our great state, it is resilient. Flooding and extreme winds brought severe damage to cities like Englewood, Sarasota and Venice. It's heartbreaking, but Floridians come together when things get tough and we will rebuild and recover. I'm in constant communication with mayors, law enforcement, utilities, business and community leaders, and state and local officials to make sure we are getting them the help they need to assist families, and that the federal government is working state and local officials to get resources deployed quickly. Help is coming. We are so grateful for the National Guard, law enforcement officers, first responders and volunteers who are conducting search and rescue, clearing roads, restoring power and bringing fuel, food and water to communities impacted by Ian. We will recover."
See Senator Scott's Hurricane Information webpage HERE. Senator Scott urges Floridians impacted by the storm to follow guidance from local officials. Stay up-to-date with information from your local Emergency Management officials. Impacted Floridians should not return home until the area is declared to be safe by local officials. Read more from FEMA about returning home HERE. See the latest on Hurricane Ian from the National Hurricane Center at nhc.noaa.gov or @NHC_Atlantic on Twitter, and from the Florida Division of Emergency Management at floridadisaster.org or @FLSERT on Twitter.
###