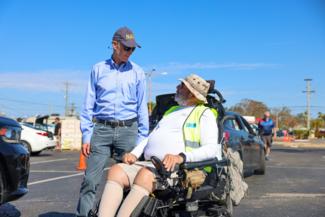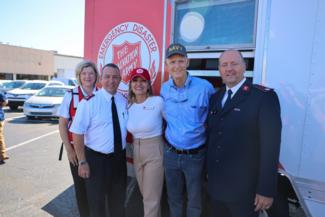 FORT MYERS, Fla. — Today, Senator Rick Scott visited volunteers with the Red Cross, Salvation Army and Cajun Navy stationed in Fort Myers to thank them for their efforts to support Floridians affected by Hurricane Ian. Senator Scott also joined Salvation Army volunteers to package and distribute food for Florida families.
Senator Rick Scott said, "I'm so grateful for the thousands of Red Cross, Salvation Army and Cajun Navy volunteers who have come to Florida from all across the country to help Floridians impacted by Hurricane Ian. The devastation and destruction in Fort Myers is unimaginable. People have lost their homes, their businesses and their loved ones. We're struggling, but the Red Cross, Salvation Army and Cajun Navy have stepped up to provide hundreds of thousands of meals and shelter to thousands of Floridians who have lost their homes. These amazing volunteers are sacrificing time away from their own families to provide meals, shelter, relief supplies, internet and above all, hope. Because of them, we are making it through."
See Senator Scott's Hurricane Information webpage HERE. Senator Scott urges Floridians impacted by the storm to follow guidance from local officials. Stay up-to-date with information from your local Emergency Management officials. Impacted Floridians should not return home until the area is declared to be safe by local officials. Read more from FEMA about returning home HERE. See the latest on Hurricane Ian response and recovery from FEMA at www.fema.gov/disaster/hurricane-ian and from the Florida Division of Emergency Management at floridadisaster.org or @FLSERT on Twitter.
###