'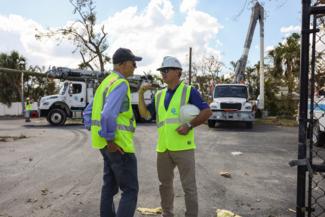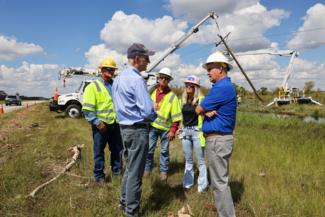 LEE COUNTY, Fla. — Today, Senator Rick Scott visited Punta Gorda and North Fort Myers to inspect damage and thank line workers and technicians with Lee County Electrical Cooperative and Florida Power & Light.
Senator Rick Scott said, "Getting the power back on is difficult, dangerous and complex work, and Florida is grateful to have so many line workers from our state, and all across the country, deployed to get families and businesses reconnected. The work these line workers are doing is helping impacted communities take a major step on the road to rebuilding, and their dedication is not lost on anyone. They not only bring power, but hope, to these affected communities at a time when both are badly needed. I am incredibly thankful for all the work these folks have done and are doing to help Floridians impacted by Hurricane Ian."
See Senator Scott's Hurricane Information webpage HERE. Senator Scott urges Floridians impacted by the storm to follow guidance from local officials. Stay up-to-date with information from your local Emergency Management officials. Impacted Floridians should not return home until the area is declared to be safe by local officials. Read more from FEMA about returning home HERE. See the latest on Hurricane Ian response and recovery from FEMA at www.fema.gov/disaster/hurricane-ian and from the Florida Division of Emergency Management at floridadisaster.org or @FLSERT on Twitter.
###