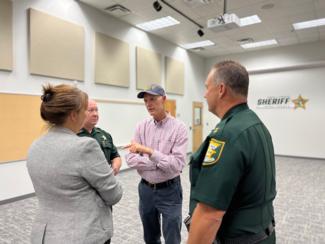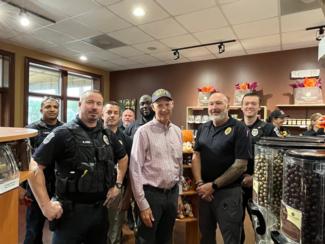 ST. AUGUSTINE, Fla. – Today, Senator Rick Scott met with the St. Johns County Sheriff's Office and St. Augustine Police and Fire Departments to thank them for their efforts to help Floridians impacted by Hurricane Ian. Senator Scott also met with Florida families whose homes and businesses in St. Augustine were affected by Ian's devastating flooding.
Senator Rick Scott said, "Ian was a monster and left a path of destruction across Florida that's left too many families and businesses hurting. Families here in St. Augustine have been impacted by many storms over the past few years. Floridians are resilient and will overcome whatever challenge they face—and they'll do it with the support of partners at every level, from local law enforcement to the federal government. My promise to Floridians here in St. Augustine is no different than the one I've made to folks in Fort Myers: I will be fighting every day for every Floridian impacted by this storm to ensure the federal government keeps showing up and provides the resources needed to rebuild and recover."
See Senator Scott's Hurricane Information webpage HERE. Senator Scott urges Floridians impacted by the storm to follow guidance from local officials. Stay up-to-date with information from your local Emergency Management officials. Impacted Floridians should not return home until the area is declared to be safe by local officials. Read more from FEMA about returning home HERE. See the latest on Hurricane Ian response and recovery from FEMA at www.fema.gov/disaster/hurricane-ian and from the Florida Division of Emergency Management at floridadisaster.org or @FLSERT on Twitter.
###