WASHINGTON, D.C. – Today, following the release of December's staggering Producer (PPI) and Consumer Price (CPI) Indexes earlier this week, Senator Rick Scott released a weekly update on his actions to fight Joe Biden's raging inflation and debt crises. PPI and CPI data showed inflation continued to rise in December increasing 9.7% and 7.0% respectively over the year. Senator Scott has been adamant about the need to implement substantive fiscal reforms to end the ongoing inflation crisis fueled by the Biden administration's socialist tax-and-spend agenda. December's data shows that there has been a significant increase in inflation every month of Biden's presidency, resulting in the highest inflation increases in 40 years. Earlier this week, following the damming CPI report, Senator Scott released the following quote:
Senator Rick Scott said, "Joe Biden's presidency has been nothing but non-stop failure. Since Biden took office, Americans have been hit with the highest inflation increases in decades, yet the president has done NOTHING to stop skyrocketing prices. Instead of taking care of the issues that are hurting hardworking families, Biden and his Democrat underlings in Congress are 100% focused on their radical plan to federalize elections. It's shameful just how far Joe Biden will go to put the Democrats' political power grab over the needs of the American people.
"I recently heard from a woman in Florida who helps operate a food pantry. It used to be normal for her to serve about 15 families per day, but now she is seeing upwards of 70 families per day. The terrible thing about inflation is that as more folks are coming to her food pantry in need, it's getting harder and harder to afford to help them. That's the reality of Joe Biden's inflation crisis and I am sick and tired of seeing this failed president do NOTHING to help. I came to Washington to make this place work for Florida families. The reckless spending must end. The socialist agenda must end. Democrats may have turned their backs on the American people, but I won't stop fighting."
Since being elected to the U.S. Senate, Senator Scott has repeatedly urged action to address America's debt crisis and the harmful effects of inflation. Click HERE for a comprehensive list of his statements and actions on this urgent issue.
See more from this week on Twitter: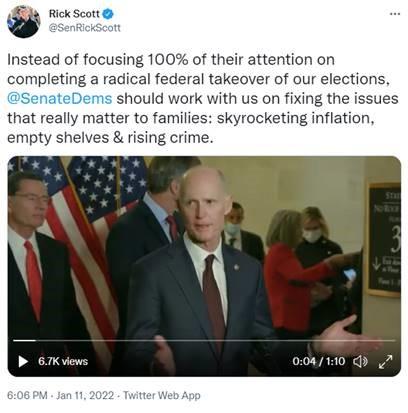 ###