WASHINGTON, D.C. – Today, Senator Rick Scott asked for unanimous consent on the Senate floor to pass his Prevent Unconstitutional Vaccine Mandates for Interstate Commerce Act which would protect the privacy of Americans' personal health information and prohibit the Department of Transportation and other federal agencies from requiring proof of vaccination or the use of a vaccine passport for interstate commerce, including air travel. His request comes after Dr. Anthony Fauci suggested that the U.S. should consider vaccine mandates for domestic flights. Senator Scott's bill is co-sponsored by Senators Cynthia Lummis, Ron Johnson, Mike Lee, and Roger Marshall, and Representative Dan Crenshaw has introduced companion legislation in the U.S. House of Representatives. Senate Democrats blocked its passage.
Senator Rick Scott said, "Joe Biden said it himself – there is no federal solution. States should be leading the effort to control this pandemic. Providing information about the virus, providing tests, supporting vaccine and therapy developments, and getting the economy back on track should be the only role of the federal government in this pandemic. That's why I introduced Prevent Unconstitutional Vaccine Mandates for Interstate Commerce Act, and why the U.S. Senate passed a Congressional Review Act measure to invalidate President Biden's vaccine mandate on a bipartisan basis.
"It is Chinese-style communism for anyone in government to suggest that families and businesses should be required to show a vaccine passport before boarding a plane or carrying goods across state lines. We all can see that these unconstitutional vaccine mandates are JOB KILLERS, and it's shameful that Democrats want to give the government more power, uphold regulations that are causing prices to rise, and force people to choose between keeping their jobs and getting the vaccine at the very time families and businesses are struggling to keep up with the cost of inflation."
See more in his speech HERE or below.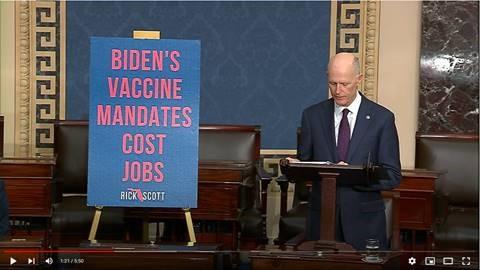 ###