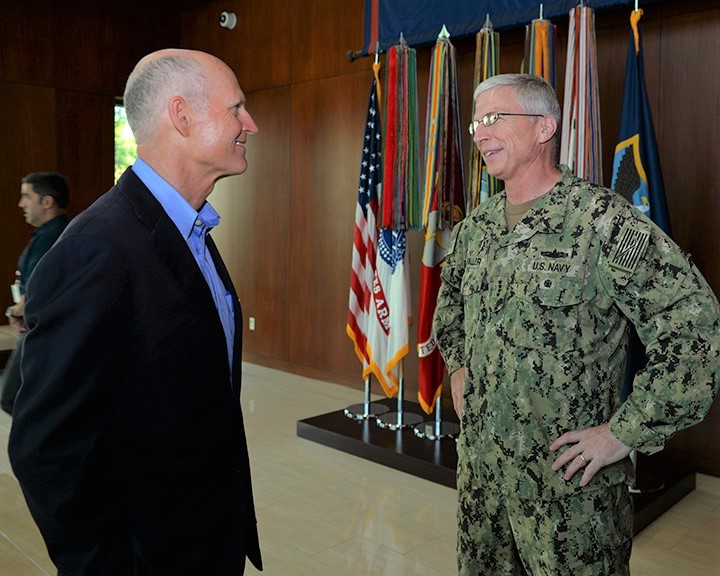 MIAMI, Fla. – Today, Senator Rick Scott met with SOUTHCOM Admiral Craig Faller and members of the United States Coast Guard at USCG Station Miami Beach to discuss his commitment to U.S. military members. Senator Scott also highlighted his Fighting for Florida budget agenda which includes $750 billion to support military members and their families.
Senator Scott's Fighting for Florida budget agenda details specific priorities the Senator plans to fight for in this year's Congressional budget and appropriations process, including:
MATCH PRESIDENT'S $750 BILLION REQUEST TO SUPPORT THE MILITARY AND THEIR FAMILIES
Senator Scott is a Navy veteran and has worked hard to make Florida the most military and veteran friendly state in the nation. Throughout his time as Governor, he secured more than $1.3 billion in funding to support Florida's active duty military, veterans and their families.
As a member of the U.S. Senate Armed Services Committee, Senator Scott is fighting for $13.6 billion in disaster relief funding, which will help rebuild Tyndall Air Force Base following the devastation of Hurricane Michael. Senator Scott will also fight for appropriations and a National Defense Authorization Act that matches the President's request of $750 billion in defense spending. This funding is an increase over the current year funding and will strengthen military readiness, help update base infrastructure and support the communities and families surrounding military bases. Additionally, Senator Scott will fight to secure a pay raise for our men and women in uniform.
###